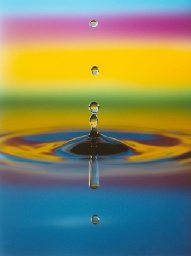 At a time where many people are clamoring for the Monroe Bypass and better environmental management of water quality in our streams, a recent series by the 'opinion' columnist of the County Edge, paints this important, yet hereto a poorly publicized issue, with the brush of election year politics.
This same subject, the sewer plant and later the "Concord-Kannapolis Inter-Basin Transfer" (C-K IBT)" are favorite campaign issues of Clayton Loflin and to a lessor degree, incumbent Stony Rushing. Asked about at most of the candidate forums, and interesting enough, the subject of a "candidate" question published in the County Edge. Prior to the election campaign(1), not a peep.
It doesn't take a cynical view to realize the issues were broached to change the political subject. Clayton Loflin running for commissioner on the sewer and growth management issues, given his record, is a little like Capt. Hazelwood of the Exxon Valdez as running for office in Alaska touting his record on environmental safety.
Union County, like every county in the Charlotte metropolitan area has major water supply concerns. The seriousness of this issue requires a thorough examination of the facts. Decisions should be made with cool heads, not tainted by a political opportunism or crusading in print to aid political comrades.
Perhaps at some point, the County Commissioners can discuss the prospects of the C-K IBT in a work-session where private citizens and editorial columnists can take part of a truly meaningful dialog. I will be there.

Facebook Comments
comments