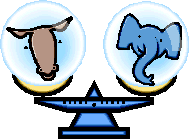 Emerson said, "Win as if you were used to it, lose as if you enjoyed it for a change."
The political landscape changed quite a bit yesterday — a tsunami on the national level and a tidal change locally. Union County's high profile races, Tripp Helms(D) vs J.R. Rowell(R) and Jimmy Bention(R) vs Pryor Gibson(D) ended with Rowell and Gibson in the winners column, while the school board races saw the election of three new members and the re-election of two incumbents (Election results link).(1)
Two of the new school board members-elect are Democrats (:wink: non-partisan of course) and are likely to bring an idealogical shift to board policy. It will be interesting to watch the dynamics of the new board, especially when pressing overcrowding issues of western and north-western Union County draw so much of the county resources.
In a previous post, I lamented the lack of engagement of western county voters. Yesterday's results, once the precinct breakdowns are releases, will likely prove my concerns about 'bond fatigue' are genuine as the 60% voter approval was 8 points less than the last 4 bond referendums.
A School Capital Investment Plan (CIP) of $500(2) million was approved this year to meet school construction of the next 5 years. Whether the new school board will continue to support these plans will largely depend on whether campaign promises were an honest commitment or empty rhetoric. Time will tell.
Every new election brings opportunity — let's hope our newly elected officeholders will grasp it.
I won't ask you to pick up your signs.

District 6 race vote count is still underway [↩]
CIP of $850M less ($174M + $80M) [↩]
Facebook Comments
comments