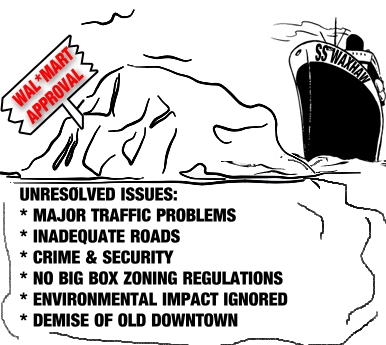 Charlotte Observer: Waxhaw planning board OKs Wal-Mart
…The seven-member advisory panel voted 4-3 Monday night to give a favorable recommendation to the town Board of Commissioners on the retailer's conditional-use zoning permit.
Though each member voiced reservations about the proposed 190,000-square-foot retail store near the corner of N.C. 16 and Waxhaw Parkway, Planning Board members who voted "aye" said their authority as a board was limited to deciding whether a site plan conformed to the town's unified development ordinance…
The following excerpt is from Waxhaw Unified Development Ordinance (UDO):

14.5 Planning Board Review and Recommendation
Once the application has been accepted, the Planning Board shall review the Conditional Use application. The Planning Board may, in its review, suggest reasonable conditions to the location, nature, and extent of the proposed use and its relationship to surrounding properties, parking areas, driveways, pedestrian and vehicular circulation systems, screening and landscaping, timing of development, and any other conditions the Planning Board may find appropriate. Such conditions may include dedication of any rights-of-way or easements for streets, water, sewer, or other public utilities necessary to serve the proposed development.
It's clear as ice that Waxhaw's Planning Board has all the authority necessary to make a complete and thorough recommendation. Why they couched their approval with 'reservations' instead of concrete conditions or better yet, specifics to the UDO remains a mystery to me.
A Mystery
If you look at Waxhaw's UDO and Table of Uses, you won't find a listed 'Use' for a Big Box Store or anything really approximating a 'everything under one roof' type of store. In fact the applicable 'Use' has yet to be verbalized by Waxhaw's Planning Board. So what is a Wal-Mart 'Use'-wise?
At the first or second meeting, Wal-Mart representatives were calling themselves a 'Home Center', so I looked up how Waxhaw defines a 'Home Center'.

Section 8-14: Home Center – (i.e., home improvement store) – An establishment which may sell various household goods, tools and building materials, durable household goods (e.g., refrigerators, lawn care machines, washing machines), electronic equipment, household animal supplies, nursery products, etc. Likely examples of such uses include "Lowe's", "Home Depot", etc.

Pretty close, but do you buy groceries, McDonald's Hamburgers, fill prescriptions and get family portraits at Home Depot?
Now Wal-Mart is calling itself a 'Retail Center', can they be anymore ambiguous?? The one-size fits all philosophy — works great with socks, but not with zoning.
Deep Kimchi
There needs to be a specific set of ordinances designed to address the impact of a very large retail outlet. Good, sensible zoning is one of the most important functions and responsibility of local government.
Waxhaw doesn't have that kind of zoning in place today – plain and simple. Does this mean that they have to just make do with the closest zoning regulations they can bend to fit — no.
Waxhaw's town council should not be stampeded into approving Wal-Mart out of fears of what Wal-Mart may do or not do.
Their first responsibility is to Waxhaw, anything else will really put the citizens, as Planning Board member Phillip Gregory said, in 'deep kimchi'.
Facebook Comments
comments