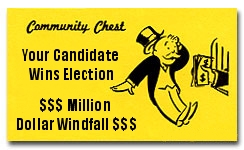 PREFERENTIAL ZONING
To at least one developer, December 4, 2006 has apparently launched an era of 'zoning for dollars'. After reading the Charlotte Observer article, the perception of the new county commissioner majority as a potential revenue enhancement or a windfall to the developers bottom-line is inescapable.
Quoted from the article:
(Developer H) is planning a 163-acre development in the proposed zoning area and wants to include a commercial area and high density housing. Neither of those elements is allowed under current county zoning, and they would not be allowed under Wesley Chapel's rules. (Developer H) said Wednesday that he believes the county, under its "new regime," would rezone the area to permit everything in his proposal.
This Charlotte Observer: Village in a battle 'zone' article maybe an eyeopener to some voters and I sincerely hope it is.
Another telling quote from the article:
"The county is going to go through a new land-use plan that ultimately will allow higher density development than is allowed right now," (Developer H) said.
The process to update the Land Use Plan began late last summer and is 5 years over due. So much has changed, especially in western union county, that needs to be addressed and co-ordinated with the county's 14 municipalities. The county, by in large is zoned one house per acre, as is most of the towns.
For (Developer H) to state that he expects higher density, in the glare of such severe school over-crowding, traffic issues and sewer capacity, can only mean plans are again being made in the shadows. To brazenly forecast the outcome in the face of such realities, means that these expectations have already been discussed.
(Developer H) said the zoning he expects the county to approve would add $3 million in value to his land. He said he would sue Wesley Chapel, which has more restrictive zoning rules, for the devaluation of that land.
Prior to the election, (Developer H) made presentations to Wesley Chapel, asking for annexation and higher density for his project. This (link) is a presentation made to the Wesley Chapel Planning Board in May of 2005. Wesley Chapel's Council made no comments on plans, but made it very clear that until the citizen surveys and Master Land Use was completed in 2007, no commitments to projects requiring differing zoning would be made.
More alarming should be the 'matter of fact' expectation of a developer has for our new commissioner majority, to favor high density zoning changes that would clearly be out of character for the area and adjoining municipalities, already saturated with commercial development and residential subdivisions.
Taking into account, the developer expectations exposed in this article, compounded by the abandoning of fair practices of announcing the agenda prior to a commissioners meeting, citizens of Union County have much to worry about. The hijacking of the a ceremonial meeting agenda with extremely controversial issues, was done to minimize the publics knowledge, public comment at the meeting and that of two commissioners who were not informed ahead of time.
Folks, from all appearances, 'cronyism for friends and profit' is back on the menu!