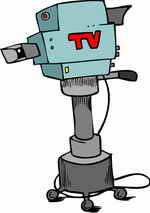 Have you found watching the our County Commissioners meetings, informative and convenient?
Are you buying more microwave pop-corn?
Did you think our Union County School Board meetings were going to be televised too, Bunky?
Well — not so fast!
It seems some of our board members are camera shy.
A Candid Camera
Did you know, Union County spent a hundreds of thousands of (TAX) dollars outfitting the new county meeting room, with state of the art video recording equipment. Union County, also has it's own cable access channel with Time Warner Cable — broadcasting 24/7.
Currently the only broadcast is the bi-monthly commissioners meetings. The intention of the commissioners when they authorized the government center remodeling was to provide televised meetings for both the School Board and the Commissioners.
Serve the Taxpayers
The issue of broadcasting School Board meetings and/or work-sessions has been discussed a number of times. Last month, the School Board received training on how to conduct televised meetings — a good start you might think.
As I mentioned, there seems to be a reluctance by some members to move forward, for various reasons — being on television has drawbacks. They have not had a formal vote, but the consensus thus far, tends to be against televised meetings.
But, what's really important is serving the public and educating parents and taxpayers on the issues effecting their children's eduction and the health of the school system. As it stands today, only those issues covered by the media see the light of day — that is not enough.
A Parental Reality
Most parents have to juggle work schedules, child activities, traffic jams and household responsibilities. Attending a school board meeting, whose location changes every month is not a option to most. Historically, these meetings are not well attended as they should be.
This doesn't mean people are not interested. We all have concerns. We all want to be informed!
Personally, I want to hear 'issues' discussed by both the board members and public speakers. I want to see School Administration presentations in a timely manner. I want to know what's going on at other schools.
The video equipment and facilities are in place, lets use them folks. Broadcast the regular monthly meetings at least.