Just 60 days into their term, Commissioners Baucom, Mills and Pressley's public image has taken a real beating. So much so, that they've decided to wager whatever 'good will' is left (if any) to squander more county tax dollars by hiring an 'Image Consultant' to try to stem the damage and insulate themselves from the news media.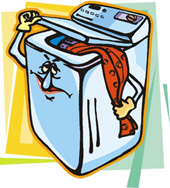 No amount of spin will reverse the loss of public confidence that is spiraling out control as voters become more aware of the self-serving decisions and policy changes made to payback political contributors or the appointing of like-minded business associates and cronies to the new Public Works Advisory board.
This morning's Enquirer Journal editorial (Consultant is is bad for image) really places this action in the proper perspective.
From the EJ:
One might think that a recently elected board majority that ran on a platform to restore dignity to board proceedings and to put the taxpayers' interests ahead of political concerns — like revenge and power mongering — would simply treat each other civilly and be sure they understood the county manager's contract so they would not have to plead ignorance when they abruptly fire him. One might think that doing their jobs professionally would best serve both their reputation and the public interest. One might also be wrong.
As bad as this story is on surface, it is actually worse when you know the 'rest of the story'. Last Friday, the interim County Manager Dick Black announced to the media the hiring of the 'PR' maven as a new county employee, finding the necessary funds hidden away in some department budget.
However, sometime over the weekend questions were raised concerning the proper advertising of the (slated) position, as not doing so would be a violation of the county's hiring policy.
At Monday's Commissioner meeting, Mr. Pressley added one of his 'now famous' last minute agenda items to consider a PR consultant. When the item was called, Interim Manager Dick Black sheepishly addressed the Commissioners, presenting the 'new' plan; to hire the individual as a 'contracted consultant' rather than an employee. Mr. Black spoke to a number of reasons the $75.00 per hour consultant would serve the Commissioners better in this manner.
As the saying goes, 'Spin it any way you like — the result is same!'
Non-pejoratively speaking of course.

Insuring that everyone in the region of knows of Union County's follies:
Charlotte Observer Editorial – Fixing Union's label
…For starters, the commissioners had canned the board's longtime county attorney, Don Perry. Monday they voted 3-2 to replace him with a lawyer who's the personal attorney for two commissioners. Get this: Before he was hired, the new attorney, John Burns, attended a closed meeting last Friday that almost certainly violated the state's open meetings law. You know, the law county attorneys are supposed to be experts on.

Commissioner Parker Mills, who voted for Mr. Burns, said he's an excellent attorney and a logical choice. "I mean, there aren't many Republican attorneys out there," he explained.

In a particularly delicious irony the board also, on a similar 3-2 vote, hired a public relations consultant for $75 an hour, up to $33,600 a year…
Charlotte Observer: Union board hires help for its image
…The position, designed to put a fresh face on Union, is unique among N.C. counties surrounding Charlotte. And Todd McGee, spokesman for the N.C. Association of County Commissioners, said he had never heard of anything like it. He said counties sometimes hire consultants for issue-specific reasons, such as encouraging support for a school bond, but not for general image control…
Past Commissioner antics have sullied the county's reputation, but nothing like we have now — Union County is fast becoming the laughing stock of North Carolina.