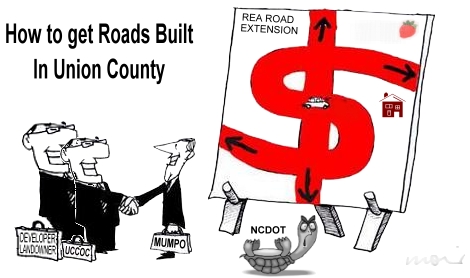 The Rea Road extension project is a lively story with a little something for everybody and pardon my cynicism, it includes the typical Union County prerequisite, catering to a 'special interest'.
If you haven't been following this controversy, it's very convoluted, you almost need program to understand the players and all the facets of the issue.
The Issue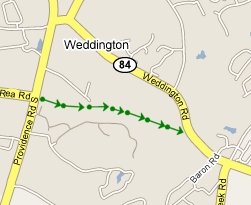 The plan for the Rea Road extension is to build a new segment from the intersection of Rea Road and Providence Road to NC84 Weddington Road near the 12 Mile Creek Road intersection.
Not only is the controversy surrounding the 'when' and 'how' the road will be built, but folded in the mix is the effort by Union County's Chamber of Commerce to convince the MUMPO Board(1) to recommend the project to a higher position on the TIP(2) list, bypassing the will and wishes of Weddington's town council.
The Twist
The current plan for the Rea Road extension calls for a four lane segment joining Rea to NC 84 built by 2030.
Enter into the picture, a developer with money, who agrees to pave 1800 feet of the 9400 foot extension, but there is a catch. Instead of four lanes, he only needs two lanes to serve his development.
Shazam! We now have a proposal for a two-lane road built by 2013. Amazing how all it takes is a land locked developer to open the coffers of NC-DOT. The state brings $2.3 million to complete the road and open that whole area for more road clogging and school over-crowding development.
By the way, where is that school site donation, Commissioner Candidate Nancy Anderson spoke of last spring?
The Opposition
Weddington's council majority position is very simple. "Let's wait until we can get the full pot of money and do the road right the first time," (Mayor Pro tem Robert) Gilmartin said. "We do want it. We believe there's a traffic issue."
Weddington's position is supported by the town of Stallings(3), who have instructed their MUMPO representatives to vote against the 'short-term' abbreviated Rea Road plan.
Enquirer Journal: Weddington council rejects partial funding for road
Charlotte Observer: A key call on Rea's future
Charlotte Observer: Rea plan bothers towns
Charlotte Observer: Rep for town to say 'no' on Rea
Conflict of Interest
If you read the preceding articles from our local newspapers, you'll note that Union County's Chamber of Commerce plays an important role in this controversy. I offer no criticism their position, nor their effort to influence the outcome.
I believe, however a 'conflict of interest' exists concerning Chamber of Commerce President Larry Helms, who happens to be NC-DOT's District 10 (covering Union, Mecklenburg County) representative. One need not be clairvoyant to see extraordinary influence welded by Mr. Helms as he wears both hats.

Last night, the MUMPO voted to accept the amended TIP plan and the revised Rea Road project.
Transportation Improvement Program [↩]
correction: originally the post included Indian Trail as a supporting town, it was not [↩]
Facebook Comments
comments