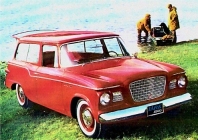 Do you remember these automotive nameplates: Hudson, De Soto, Packard, Rambler, American Motors, Studebaker, Plymouth… Oldsmobile??
They, I am sad to say, are no longer in existence.
I ran across the following article; Business Week:Why Toyota Is Afraid Of Being Number One and it brought to mind a recent flurry of advertisements for Toyota's Tundra pickup truck. Have you seen the one where the 'Tundra' launches down a track, fast enough to beat a pair of 'massive' steel doors and then stops in the knick of time at the edge of an abyss? What is the point of that??
Now if dived off the cliff and a parachute popped out, then I'd definitely recommend it to folks living near the Grand Canyon.
The real issue of the article is Toyota's apparent concern of a buyer backlash should the company become the largest seller of cars and trucks, surpassing GM and the two remaining American manufacturers Ford and Chrysler. The Japanese auto companies have done a terrific job of capturing segments of the market place over the years. Today, the Toyota Camry is top selling car in the US, followed closely Honda's Accord and Civic models, then the Nissan Altima, where finally the Chevrolet Impala and Malibu models make the list.
The truck market is just like the old days, Ford's F Series, Chevrolet's Silverado and Dodge Ram run 1, 2, and 3, where Ford sells more than double number of pickups than Dodge.
We live in a global economy, most of the big foreign manufacturers have US plants. Toyota's market penetration is greatest on the coasts, but American heartland buyers are still loyal to our Big Three and that's why Toyota is concerned. They don't want to alienate those buyers.
What is Toyota going to do, hold back production, slap a 'Nova' nameplate on a Corolla? Oops they tried that already.
I have never owned a foreign car. I like the BMW, Volvo and some Mercedes designs, I also like the styling of Infiniti, but even if money was no object, I'd still rather drive a '63 TBird, a '69 Riviera, or IROC Camaro or better still a Cadillac Allanté.
Ford, Chrysler and General Motors are going to live or die in the market place, by selling the best products and taking care of their customers, Toyota with one hand tied behinds it's back won't help in the long run.
Facebook Comments
comments