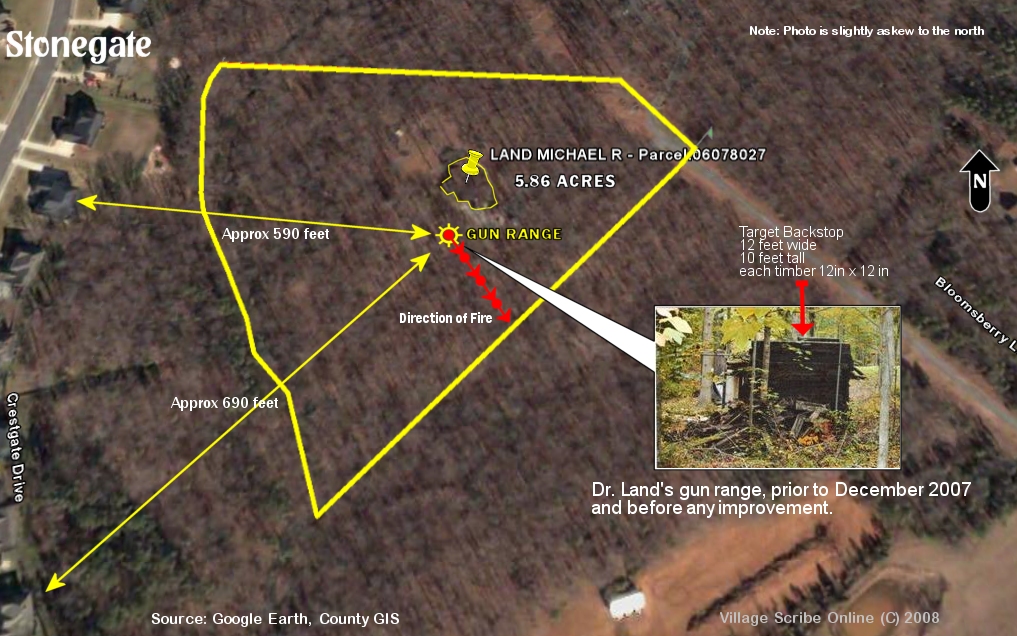 Use Scroll bar to view complete image or click image for pop-up window
Machine Gun Alley – Part 2
Union County TV audiences and newspaper readers have ring-side seats to what promises to be a long drawn out and likely expense affair. The print and video media has covered the story from the homeowners prospective as well as that of Dr. Land.
The completely new gun range has now been showcased on the front page of every paper, including the image of Dr. Land holding a seemingly benign rifle. Considering that all the hubbub is over his machine gun, you'd think he would have given his fans a front page photo with him posing with the Tommy Gun — you know in character.
Above, I have posted a photographic composite to illustrate a few facts that have been lost in all the gun-smoke. First and foremost the specific character, design and nature of the old range 'backstop' — before Dr. Land built his new one. For years, this served as only protection from stray bullets the neighbors had. It certainly doesn't fill me with confidence and had the families in Stonegate realized the truth earlier, the controversy would have started years ago.
Another View from the Edge
Today, I read Ritchie Starnes(1) front page editorial, titled 'NRA could help defend the gun range'. According to Ritchie, Dr. Land's case is a slam dunk. Ritchie writes, "Land acknowledges that a number of gun advocate organizations of rally behind his cause. Between a perception of grandfathered property rights and a successful NRA inspection, Land seems to be on solid ground."
Ritchie continued, "Since he created a target range three years prior to the '97 Sport Shooting Protection Act, his site enjoys the added insulation of perpetuity as long as he continues to use a range at that location, Land said his rights remain preserved."
Well there you have it folks — game over!
Not so fast – Bucko
I suppose small matters of nonconforming land use, the lack of a county zoning permit and special use permit and the fact that prior to creation of his new gun range, his old range had not been inspected or licensed by any government entity and questions remain as to whether he even meets the specifications or qualifies for the Sport Shooting Protection Act. Here comes the judge!
I guess I asked the wrong question
Recently I spoke to Curtis Blackwood, NC House of Representatives member for western Union County and asked him, about the Shooting Range Protection Act. It was obvious to me that he's been reading the papers because he immediately recited many the arguments in favor of Dr. Land. I stressed to Curtis that I wasn't interested in the act as relates to Dr. Land, but I specifically interested in knowing if Mr. Blackwood felt the lack of any design specifications for what constitutes a sports shooting range was a concern to him.
Mr. Blackwood broke off our conversation and walked away, so I interpreted that to mean that Rep. Blackwood doesn't have a concern as to the lack of specificity in the ordinance.
Readers should note, that Mr. Blackwood is running for re-election and will be on the ballot in May 6th Republican primary.
As I said before, "Ambiguity" should be the North Carolina State Word.
It seems inevitable that Wesley Chapel's Village Council will once again be riding the tale of a legal dragon as it tries to protect the quality of life in this fast-growing town.

On Tuesday evening, April 1st, the Village Council of Wesley Chapel held a public hearing on the proposed Firearms ordinance. A little more than 30 people signed up to speak, two thirds of which indicated they supported the firearms ordinance.
With the exception of two speakers who called subdivision homeowners misplaced Yankees(2) , most were very sincere in their expression of opinion. The Village Council did not vote on the ordinance, how refreshing a change for Wesley Chapel from just a few years ago(3) , they decided to review the ordinance with eye towards refining the terms and making allowances for profession services like dog trainers.
The following are local TV news reports:
WBT-TV Report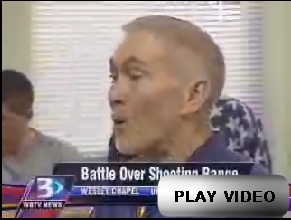 WCNC-TV Report
WSOC-TV Report
This incident was brought up during the hearing.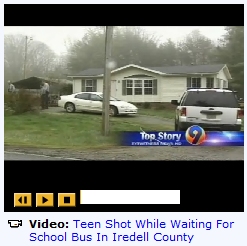 The County Edge 3/28/2008 [↩]
We've heard these remarks many a time from a very a small core of Village old-timers, who more often than not have been riled up and misinformed by former Village Council spouses, who lost their seats of power during the clean sweep of the Council in 2005, the last and most bitter one in 2007 — the WBT-TV tape gives a little flavor of it [↩]
In early 2005, the old guard council maniputlated the land use plan to rezone residential land into commercial so a sitting councilmembers property could be sold for $1.5 million and the 3rd shopping center at the corner of Waxhaw-Indian Trail and NC84 [↩]
Facebook Comments
comments