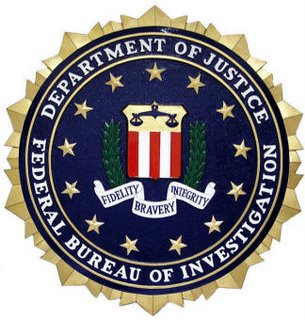 Y
ou maybe aware of the rumored FBI investigation into Union County, which evidently began after the Charlotte Observer revelation (Charlotte Observer, Mar. 14, 2007: Union Co. official aided sewer request) of Commissioner Mills allegedly arranging 'special' sewer access for large campaign contributors. Well, its much more than a rumor now.
Quoted from the March 2007 story:
Mills' intervention is significant not only because of his ties to the developers, but because fast-growing western Union County is quickly using up its sewer capacity. Fair distribution of the limited capacity is a looming issue for county officials.

With Mills' encouragement, county staff gave developers Dennis Moser and Dean Harrell letters approving a certain amount of sewer capacity for projects on U.S. 74.

Moser said he had trouble obtaining "accessibility letters," required for development, before turning to Mills. Once he got the letters, county staff permitted Moser to edit them specifying the capacity his projects needed.
Here is a case of a developer/campaign contributor specifying just how much of taxpayer built sewer capacity he wants, in fact, he is permitted to edit the permit.
Now, more than a year later, the law-firm of Wyatt and Blake, LLP, specialist in representing clients under FBI Investigation, has been retained to represent 'Republican' Commissioners Baucom, Mills and Pressley. According to an article published in the Observer today,(1) $73,120 dollars has already been spent on these 'personal' lawyers
Charlotte Observer: Union County racking up legal bills
Quotes from the story:
"If you're going to go, go with the best," Baucom said. "The FBI probe was not something to take lightly."… …Baucom said the FBI was "fishing," but he didn't know specifically what they were after.
I find it hard to believe that the FBI is just 'fishing', as Mr. Baucom stated, but to quote a Yiddish proverb that says, 'The fish stinks from its head', we've certainly seen enough Board of Commissioners actions lately to prove this proverb applies.
"Go with the best", says Mr. Baucom. As I said in an earlier post, when someone else is paying the bill, then of course, you can afford the best. The arrogance is breathtaking — this is the same commissioner trying to short change our schools and rob you of your voting rights!
FBI Investigations are criminal investigations, therefore it's logical to assume that if Mr. Baucom, Mills and Pressley felt the need to retain attorneys, then they are either witnesses to, or the subjects of the investigation or perhaps a combination of both. I think it is also safe to assume that one doesn't spent $73,120 if your just a witness.
I have a few questions:
Hypothetically, suppose the three commissioners are the subject of the investigation, then should taxpayers funds be used to pay for their legal defense?
We know attorneys have been hired for the FBI Investigation, should the subject Commissioners be allowed to make decisions regarding these expenditures? They voted for themselves up to $30,000 each of a legal expense budget. How would you feel if they gave themselves a $30,000 raise — in effect thats how it works.
If these Commissioners are under investigation or NOT, shouldn't the FBI reveal the nature of the investigation, so as to assure Union County citizens as to the nature of these inquiries?
If any or all of the Commissioners involved are indicted, does the county have to sue to get it's $73,120 dollars back?
Who is responsible to the citizens of Union County to make sure taxpayer funds are not being misused? The County Manager? or The County Attorney? or perhaps the State Attorney General? Who protects the taxpayers?
One final note, the FBI investigation into Union County is a separate issue from Mike Shalati's suit against Union County and Commissioners Baucom, Mills and Pressley — most of the players are the same, however.
Just one more question.
Does FBI investigation make the Baucom, Mills and Pressley's action to expand the board by hook or crook, a move to keep the their majority intact and the money flowing so taxpayers continue to fund their legal defense??
June 14, 2008 [↩]
Facebook Comments
comments