O
n Tuesday, November 19, Union County's private-public and taxpayer susbsidized economic developement co-operative, the Union County Partnership of Progress (UCPP) presented a grand vision for a future business park in eastern Union County.
Before a group of 100 or more business and government leaders at the Wingate University's La Verne Hall, UCPP President Maurice Ewing emceed the presentation; introducing speakers who spoke of the proposed plan, but with few specifics. Speakers included Duke Power's Tony Almeida and Randy Broome, Jay Smith of O'Brien/Atkins a architectural, engineering and land design firm, Lisa Owens of BAE Systems, Ronnie Bryant of the Charlotte Regional Partnership and Tom Williams, retired CEO of ATI Alvac and former chairman of UCPP.
The presentation lasted for more than an hour and was accompanied by a sparse power point presentation. The map below shows the location, the expected size is 5000 acres, providing 14 million square feet of space. Land designer Jay Smith offered a rendering of how the park might could be configured. A mixed use site of industrial, office, institutional, commercial retail, higher education and residential were listed as potential composition of the site. CSX Transportation, who could build an "integrated logistics center," a rail-to-truck distribution center, as shown on the site plan, was the only company and possible Legacy Park participate mentioned, but did not attend the presentation.
The nexus of rail and interstate highway, the proximity Charlotte-Monroe Airport and Charlotte metro was said to be primary draw for the park and in the grand vision of UCPP Chairman Bob Butz could be as big as the Research Triangle Park near Durham, the 8,000-acre business and research center.
All in all an impressive array of people, talent and expections.
Ok, sounds great! What's next?
Personally, I like the vision concept, I like the business park idea. I would have preferred more detail and less grandiose. Why waste an opportunity to give the audience and by extension the public more concrete information.
I do have a few questions:
Why locate the park so far from Monroe and Union County infrastructure?
Who, what and how will the sewer and water be provided to the park?
How will the land procurement be handled?
A project of this size will require a serious amount of investment capital. Who will provide it?
Most of the acreage comprising Legacy Park – Phase One is owned by the Carrol Edwards (estate), will the land be purchased or is Edwards Wood Products an investment partner?
What part is Union County government be expected to play?
What effect will a super-sized Union County Business Park have on Monroe Airport park?
What about promoting the existing Business Parks in Indian Trail and Stalling?

and most important:

Now that business park land has been identified, how will speculators be kept from driving up the land values as it occurred the last time Union County attempted a Business Park? (FYI: The park failed as a result.)
In all honestly, I'd like to see a venture like Legacy Park succeed, but I am concerned given UCPP's pathetic record to date and the strong whiff of cronyism rising from the selected location, it may be stillborn.
We will be following Union County's newest adventure.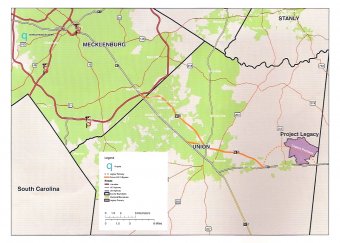 Union County map showing Legacy Park – click to enlarge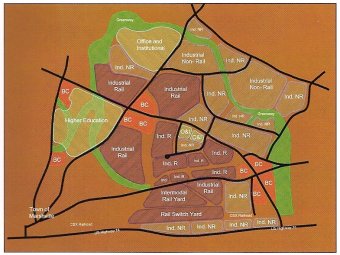 Legacy Park site plan – click to enlarge
Facebook Comments
comments