Scott Buzzard Weddington Town Council District #2 Candidate

Who am I?
I was born and raised in small-town Pennsylvania, so family, neighbors and community were a large part of my upbringing. After graduating in the top 10% from Pen Argyl High School, I received a Bachelor of Arts in Politics from Wake Forest University. (Go Deacs!) I settled into the southeast Charlotte area in 1995. That is when I met my wife, Sandy. We were married in 1998 and moved to Weddington shortly after our son, Scottie, was born in 2000. Our daughter, Anna, was born in 2003.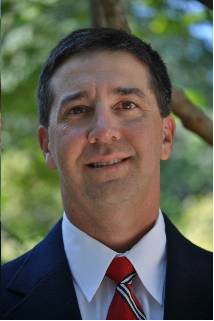 I have worked in the electronic automation industry for over 16 years. I have been fortunate to be with the same company for 14 of those years. I am the Customer Service Manager for Sterling Services which allows me to serve businesses across the United States but also allows me to be at home with my family at dinner time.
In August of 2003, I was nominated by former Mayor Ed Howie, and appointed by the Weddington Town Council, to finish a term for a vacant seat on the Weddington Planning Board. At that time, being a member of the Planning Board also meant serving on the Parks and Recreation Advisory Board; the Historic Preservation Commission; and for me, an alternate on the Board of Adjustments. This was the start of nearly eight years of my service to our community.
In addition to these Town Boards, in 2004, I was asked to head a new committee, tasked with studying and making recommendations for our Town Center. Through many name changes, I am currently Chairman of Weddington's Downtown Core Committee.
I am active in area sport leagues, both playing and coaching (yes, I still find some time to get out and play baseball). I started coaching my son at the YMCA in 2005, and have spent many a night there, at WCWAA or with Legacy Sports trying to do my best to help boys and girls get better at soccer, baseball, football, basketball, and life in general. Outside of my family, this is the most rewarding for me.
As you can see, while I have moved my roots, I have not left them. I have been, and will continue to be committed to our community.
Why am I running?
I have been very active in the community for eleven years. The Town of Weddington has worked hard to keep its rural character while being part of one of the fastest growing counties in North Carolina. I think it's important to have proven leadership to continue to move Weddington forward without losing our past.

What is my experience?
I have been involved with the Town of Weddington and have interacted with the Weddington Town Council for over eight years.
• Planning Board (current)
• Board of Adjustments (current)
• Chairman of the Downtown Core Committee (current)
• Parks and Recreation Advisory Committee (current Vice-Chairman, past Chairman)
• Local Area Regional Transportation Plan (LARTP) Steering Committee Member
• Historical Preservation Commission (current)
My involvement has given me a good understanding of what is important in this election and ultimately Weddington's wants and needs over the next four years.
What are my beliefs about leadership, teamwork and government?
I have actively coached hundreds of young men and women over the past years through several local organizations. I have taken this opportunity to not only teach them the essentials of the sport, but also some basic fundamentals that will help them to be confident through life. Each one of my players was constantly reminded of Coach Buzzard's "Five Keys." Here are the keys and how I believe each one relates to my leadership and the town of Weddington.
Listen
I plan to remain actively engaged with not only the residents of Weddington, but also other local leaders so that we can maintain a proactive approach to leading our Town and not rely on knee-jerk reactions that require later effort to fix.
Learn
Even though I am the most experienced candidate for Weddington Town Council District 2, I don't pretend to believe that I know everything. I am looking forward to the new challenges and learning opportunities that will come in working with the people of Weddington while serving as a part of our Town Council.
Try Your Best
You can not please 100 percent of the people 100 percent of the time. I am not tied to any special interests. If you are interested in what I can do for you, I may not be the best choice. If you are looking for a candidate who is willing to put the time in to a proactive plan that betters ALL of Weddington, and by extension betters you; a candidate who has worked to keep our unique rural character while other local municipalities have pushed commercial development; a candidate who will be working for the long haul, not just when a single issue arises, then I just might be a good choice.
Work as a Team
Teams are successful when they have a solid game plan and team members are focused on completing their part of that plan to the best of their ability. The core team for Weddington consists of the Mayor and four individual Town Council members. If we focus on what's best for all of Weddington and develop a long-term plan for managing growth while keeping our residents safe and taxes low, then Weddington wins.
Have Fun
How productive can you be if you don't like what you are doing? How much time will someone spend to ensure Weddington remains a premier community, not only in Union County, but also in North Carolina? I have a degree in Politics from Wake Forest. For the better part of eight years I have been involved with the Town on numerous boards and committees. I have a passion for what Weddington is, and what it can be in the future and enjoy being an active participant in this community.

Why is this election important?
As one of the fastest growing municipalities in North Carolina, Weddington is under constant pressure, both internally and externally. We need leaders who will be stewards for our community. We can not sit around without understanding the interactions Weddington has with its neighbors, the County and the State. When we do so, we cede our thoughts and ideas to others, and lose control to make decisions that benefit Weddington. If elected, I believe we can all work together and ensure Weddington
• Maintains a low tax rate,
• Focuses on public safety,
• Upholds property values through smart planning,
• Keeps our citizens safe,
• Supports local businesses, and
• Improves local road infrastructure.
But most important, we must work together to protect Weddington's strong rural character, because I believe that is what makes us special and why so many people move and remain in our area.
This is an important election for Weddington. Regardless of whether you have chosen to vote for Scott Buzzard on November 8th, I do hope you take the time to vote and show your support for those who are willing to serve and represent our community over the next few years.
Facebook Comments
comments