Members of the Union County Board of Education Finance Committee voted unanimously yesterday, to send a $96.5 million dollar budget recommendation to the full School Board for approval next Tuesday, May 1. If the plan is approved, the School Board will present it in the form of a budget request to the Board of County Commissioners in May. The proposed budget increases for County funding would make up for the shortfall in state funds.


People at the table from left to right: Dr. Mike Webb; John Crowder, BOE; Dan Karpinski; David Scholl, BOE; Dean Arp, BOE; Dr. Ed Davis; Sherry Hodges, BOE; Dr. Denise Patterson and Dr. David Clark.

In the audience were School Board members John Collins, Laura Minsk and Marcie Savage.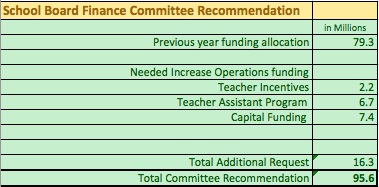 This spreadsheet is a breakout of the funding areas in the request approved by the Finance Committee.






Reader Note: There is more to this story — stay tuned.
Facebook Comments
comments