Draft Kuehler effort begins
by Heather Smith
Enquirer Journal – May 24, 2012
A petition to put Commissioner Tracy Kuehler on the November ballot is circulating among western Union County residents.
The terms of Kuehler and fellow commissioner Kim Rogers end this fall. Neither filed for reelection. Richard Helms and Frank Aikmus were the only people to file. Since there was no competition, it appeared both were presumed to be the future commissioners.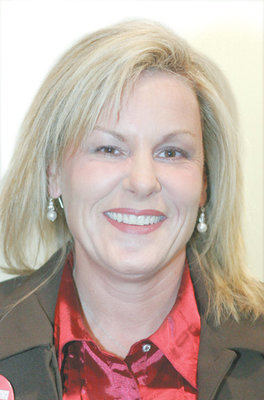 But a number of residents on the county's western side want to see Kuehler on the ballot. John Whitley, Union County Board of Elections director, confirmed that Weddington Mayor Walker Davidson filed the paperwork to begin a petition. The group must collect 5,097 signatures by the deadline of June 29 at noon, Whitley said.
Davidson said he would like a different point of view on the commission. When he saw that only two people filed for two seats, he anticipated the need for a third option.
"The number one reason is that I'd like to have an election in November," Davidson said. "Voters deserve to have a choice."
Residents had some interest in the petition earlier, but the recent debate about increased funding Union County Public Schools prompted more people to sign.
"They feel like there are only two people, Kim and Tracy, who are speaking up for our schools," Davidson said.
A YouTube user called "TheVillageSpine" created a video critical of commissioners Jonathan Thomas and Todd Johnson, as well as Aikmus. Links were posted to several Facebook profiles Tuesday. The video focused on requested funding for teacher assistants made by the school board to the county. The video suggests that Aikmus, like Thomas and Johnson, would not financially support county schools.
The video ends with the words, "Let's have an election in November, not an appointment."
Kuehler reposted a link to the video Tuesday, with a message about the petition and her original decision not to run for reelection.
"Since my decision not to run, a huge issue has emerged that I am very passionate about, and the support shown by citizens all over the county for my stance has been overwhelming to say the least," Kuehler wrote on her Facebook page. "Based on that support and passion, I respectfully agreed to run if the required signatures were obtained."
While she does not know Aikmus or Helms personally, Kuehler said their political views are likely not different from the current board majority.
"I won't be able to do much with one vote, but you need someone on the other side asking questions," Kuehler said.
So far, the group has collected about 1,000 names, Davidson said. That leaves less than a month to collect about 4,000 more. But many of the petitions are still circulating, he said, and even more have recently gone out as anxiety over school budgets rise.
"Based on the recent interest and how much interest it's gotten in the past few weeks, I think it's possible," Davidson said.
The Enquirer Journal – Draft Kuehler effort begins.
---
The following link is for the Petition Form. Download and print it. It is acceptable with just your own signature, but you can always ask your neighbors to sign as well.
[Click Here] for PETITION
For information as where to send your signed petition – please email the VillageScribe.
NOTE: In the EJ story above, there is a reference to a video from a YouTube user named VillageSpine. Do not be mislead by the similarity in names, the Village Scribe DID NOT produce or distribute this video.