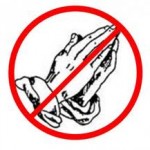 "Freedom From Religion Foundation" — all you need to know about the organization is its name. It was however, just a matter of time. There is little doubt in my mind that the complaint was filed was from a not-to-be-named "fictional" Union County resident.
Perhaps all we need is a little balance, maybe the Commissioners could recite the "Atheist Prayer" and call it even.
National nonprofit threatens to sue Union County officials
WSOC-TV
A national nonprofit is threatening to sue Union County officials over invocations at county commissioners meetings.
Eyewitness News obtained a copy of the letter that the Freedom From Religion Foundation sent to county officials in late February, after a Union County resident filed a complaint with the foundation.
A lawyer with the foundation, a nonprofit based in Wisconsin, accused county officials of violating the First Amendment, citing a similar case in Forsyth County, North Carolina in 2011, where the Fourth Circuit Court of Appeals ruled that prayers to Jesus during Forsyth County Commissioners' meetings were unconstitutional.
In a phone interview, the lawyer told Channel 9 the foundation may consider filing a lawsuit if commissioners' ignore their request to cease and desist saying the prayers, which often specifically mention Jesus.
County commissioners said they were surprised to receive the letter.
"We are just little old Union County, N.C., and to get a letter from outside the state, from a group I've never heard of telling us what we are going to do and what we are not going to do was shocking," said Commissioner Todd Johnson.
Still Johnson said the Board of Commissioners has no plans to stop the prayers that open each meeting.
"This county is a godly county. There are God-fearing people in this county," Johnson said.
Johnson maintains officials are exercising their constitutional right to freedom of religion, and said several different pastors from multiple denominations have prayed before the meetings.
"The way I look at it, the U.S. Congress prays before they open session every day, so if it's good enough for them, it's good enough for us here in Union County," Johnson said.
Residents agreed, calling the threat of a lawsuit ridiculous.
"If it's something they've always done, who cares? Just say the prayer, get on with it, and get on with your meeting," said resident Bunny Baldwin.
via National nonprofit threatens to sue Union County officials | www.wsoctv.com.