By George Hendry
Shortly after the November elections for Union County Commissioner one of the three winning candidates Mr. Jerry Simpson closed out his campaign account on November 24, 2010.
The other two winning candidates Mr Todd Johnson and Mr Jonathan Thomas chose to leave their campaign accounts open and they remain open to this day.
In December 2010 after the elections were over, both Mr. Johnson and Mr. Thomas recieved $12,000.00 in their campaign accounts in the form of three $4000.00 checks each. Two were from the principals of Boggs Paving (Mr. David Boggs, $4000 to Mr Thomas and Mr. Drew Boggs, $4000 to Mr Johnson). The remaining four checks were from three principals of two associate firms with Boggs Paving for the Monroe By-Pass bid as follows, Mr. Jim Triplett of Charleston, SC ($4000 to Mr Thomas and $4000 to Mr Johnson), Mr. Doug Anderson of Old Town, FL ($4000 to Mr Thomas) and Mr. Brian Schreiber of White Springs, FL ($4000 to Mr Johnson). The campaign account records indicate all checks were received between Dec 7 and Dec 28 when both Mr Thomas and Mr Johnson were now sitting Union County Commissioners.
Assuming this issue comes to a vote before the Board of County Commissioners we do not know at this time how Mr. Thomas or Mr. Johnson may or may not vote assuming they do not recuse themselves. Since this is money given to a campaign account and not personal there is no technical reason to recuse themselves.
However this is a moral question that must be raised everytime a candidate or elected official receives money from a special interest. Why give the money if not wishing for favorable consideration on current and future issues that may come to the Board of County Commissioners and why accept the money if you don't intend to try and help this special interest, if at all possible, on issues of their concern.
It will be interesting to watch how this plays out in the coming months.
---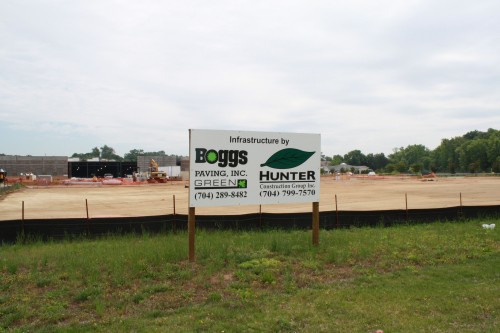 New Kohls – Under construction on Rea Road.
Note: One of the 5 members of the Planning Board who approved this development (Jan 2011) is a high ranking employee of Boggs Paving.